LOCATION
1136-1140 Mt Alexander Rd Essendon VIC 3040 
Within SIA Medical Centre
What are dental implants?
Dental implants and crowns are a fixed tooth replacement option, replacing one or more missing teeth. They are a clear alternative to dentures or bridges. Dental implants involve a minor surgical procedure involving the placement of a titanium implant in your jaw, followed by a porcelain crown that attaches to the implant.
Dental implants and crowns look and function like natural teeth. Unlike dentures, you will not experience teeth movements when chewing or talking, and will not require additional maintenance apart from the usual brushing and flossing. And unlike dental bridges, your adjacent natural teeth will not need to be adjusted.
What does the dental implant process involve?
Our dentists at SIA Dental will first perform a thorough general dental checkup and assess your specific needs for teeth replacement. We will then arrange for a 3-D X-ray picture, which will provide more information on the amount of bone available in your jaw. This will also allow our dentists to assess the complexity of your treatment and associated fees.
Once the 3-D X-ray picture if reviewed, we will prepare a surgical report which will outline the treatment procedure, sequence and timeframe. We will also fabricate a surgical guide, which will be used during the procedure to place the dental implant accurately, efficiently and safely.
The dental implant is placed in-chair under local anaesthesia. A single implant placement normally takes approximately 30-40 minutes depending on the procedures required for the case. The dental implant is then covered and allowed to integrate with your bone for 3 months.
Once integrated, the dental implant is uncovered and a mould of your teeth is taken. These moulds are sent to our local dental ceramist who then fabricates a porcelain crown to attach to the dental implant. This process takes 2 weeks and the fitting of the implant crown takes just 15 minutes.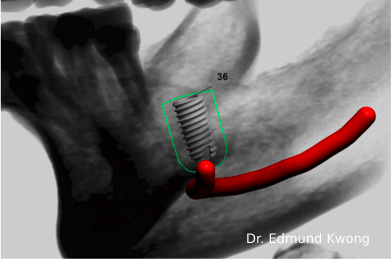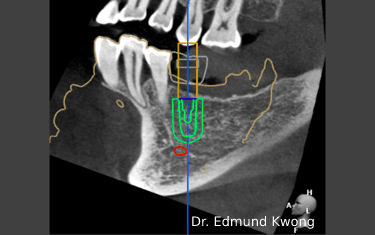 3-D X-rays allows visualisation of important structures around the implant site, potential implant placement (to scale) and volume of bone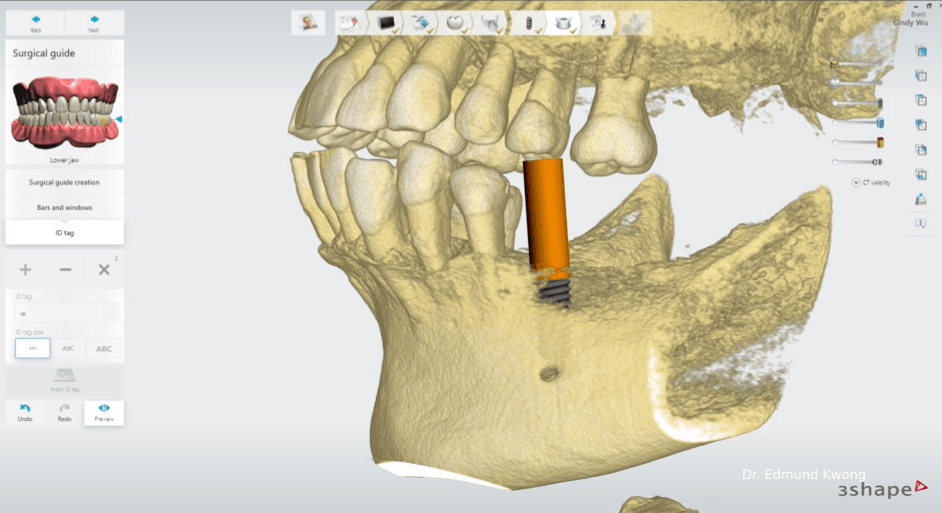 A typical dental implant and crown case performed at SIA Dental Essendon involving the replacement of a chewing tooth: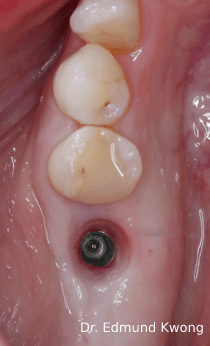 Dental implant placed in jaw to replace a back tooth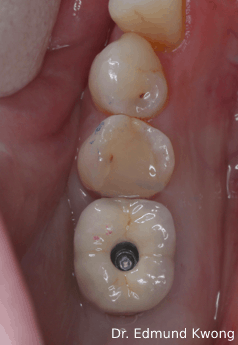 Crown fitted onto implant 3 months later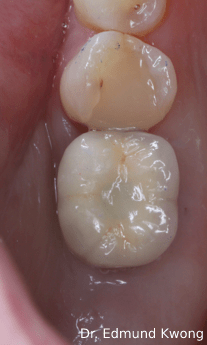 Screw access hole is covered and dental implant is now ready for function
What are dental implants and the crown made of?
Dental implants that are placed within bone are usually made of Pure Titanium (Grade 4). Depending on the implant crown design and structure, the crown may be made of a metal alloy structure and porcelain (lithium disilicate or zirconia).
How do I know if dental implants are right for me?
Pre-existing medical conditions, medications and allergies

Current dental status – health of existing teeth and availability of space to fit additional teeth

Current gum health – presence (or history) of any gum disease

Lifestyle factors such as smoking may compromise the success of treatment

Availability of bone at potential implant site

The team at SIA Dental look forward to working with you to achieve great dental health.
To make an appointment please visit our HealthEngine booking page or contact our friendly team who will advise of the next available appointment that meets your needs.
Our state-of-the-art dental suites are located within the SIA Medical Centre in Essendon, just 20 minutes from the city, and easily accessible by public transport, with parking available on site.
Address
SIA Medical Centre Essendon,
1136-1140 Mt Alexander Rd,
Essendon VIC, 3040
Our hours are
Monday – Thursday 8am -5pm
Friday 11am – 8pm
Saturdays 8am-2pm
With emergency appointments available.